The secret to
cyber security

? Fix today's issues

today

.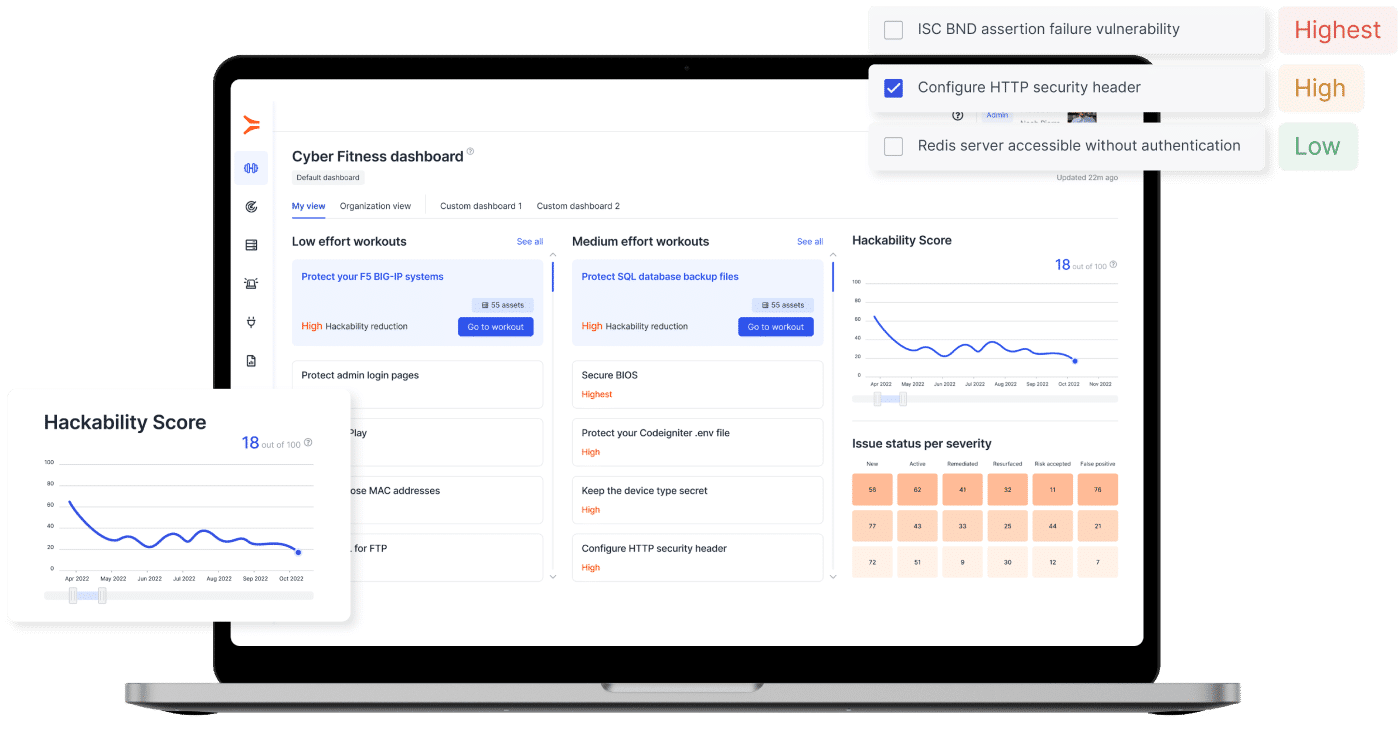 The risks of poor
cyber security
Global corporate losses to cybercrime are predicted to reach $10.5 trillion annually by 2025.
With organized criminal groups responsible for 51% of these attacks, it's crucial for businesses to invest in robust cybersecurity solutions. Don't be part of the 43% lacking specific security measures—take action now!
Get cyber-fit.

Boost your hacking
resilience.
The
Autobahn Security

Experience
Overwhelmed by loads of unstructured cyber scanner results?
Our cyber security platform

consolidates data from any security assessment tool

and provides manual reassessment of every single vulnerability from a hacker's point of view.

Clustering

and

prioritizing

issues will

avoid overload

for your team. Get to the root cause!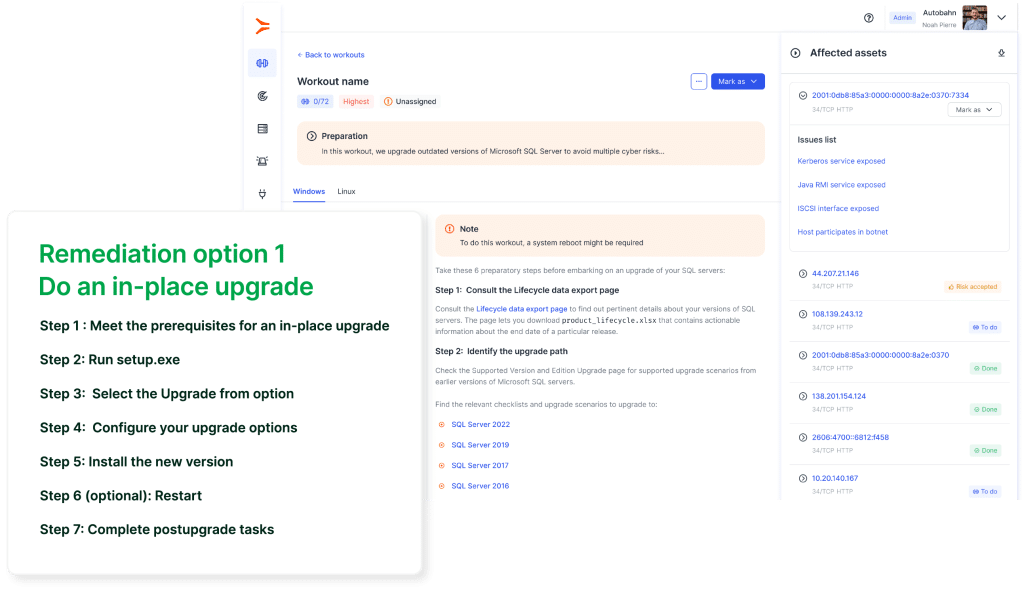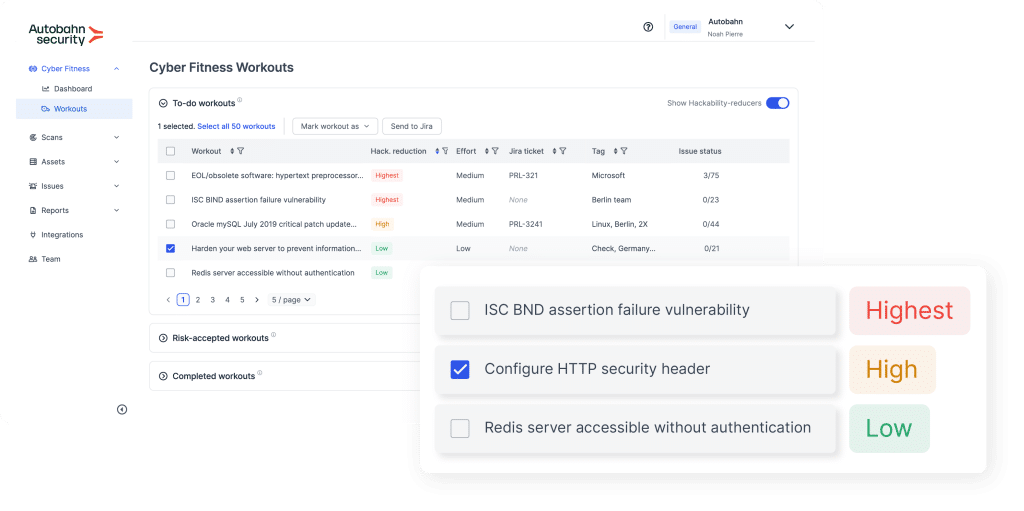 Not finding a cyber security expert for your IT team?
Help comes in the form of
Cyber Fitness Workouts
. These workouts are designed as
easy-to-follow actionable remediation
guides for IT teams even without security expertise, and each guide is
curated by our teams of security engineers and technical writers
. Upgrade your in-house security expertise and save money!
Worried that good might not be good enough?
‍
Naturally, you want to know everything about your company's standing. The
Hackability Score
is Autobahn Security's unique KPI. This individual score enables you to
compare
your company with peers,
allocate
budget, extend compliance, and
track progress
over time. Understand your hacking risks and
improve reporting to management!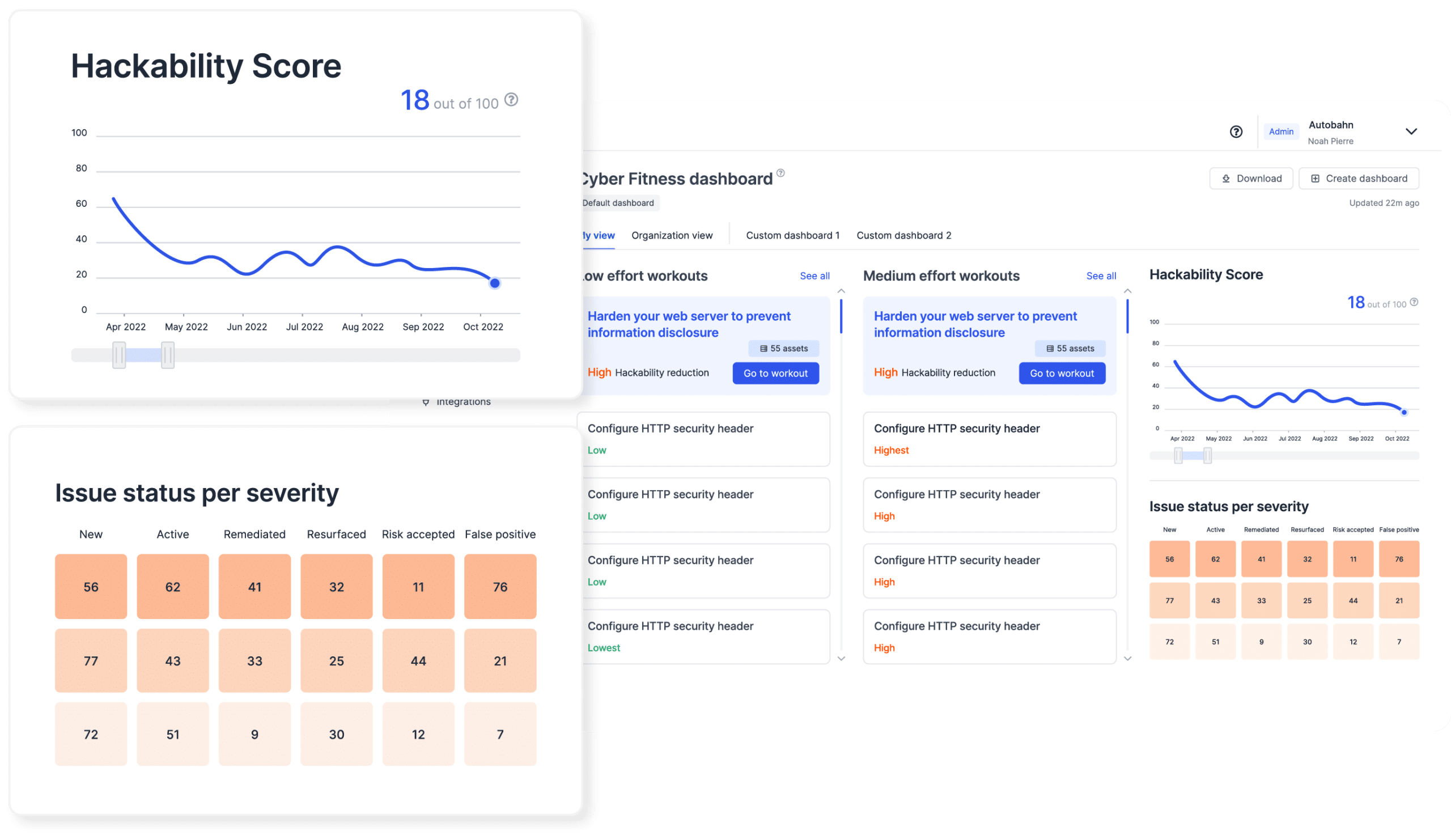 Feeling left alone when the going gets tough?
Reach out for us and speak to a real expert. Each
remediation
we suggest to you is
formulated
and
tested
by our technical team. Moreover, our
security engineers
are there for you, should you have questions during implementation or regarding any vulnerabilities, even before remediating them.
Feel the support!
How does Autobahn Security
help your cyber security?
01. Struggling to prioritize vulnerabilities?
Our smart prioritization feature helps you focus on the most critical issues first.

02. Overwhelmed by complex remediation processes?
Our user-friendly interface and step-by-step Cyber Fitness Workouts make remediation a breeze for everyone.
03. Concerned about security communication?
Our Hackability Score provides a single KPI for reporting vertically or horizontally.
04. Need actionable insights?
Autobahn Security's detailed reports and recommendations empower you to make informed decisions and enhance your cybersecurity strategy.
05. Stressed about resource allocation?
Our efficient vulnerability management system allows you to use fewer resources for remediation while maximizing your security efforts.
06. Searching for a scalable solution?
Autobahn Security's flexible platform seamlessly grows with your organization's needs by empowering non-security experts to take ownership of remediation tasks.
Your security future is just

a click away.
You don't need to enter a credit card (or any of that stuff) — just fill in the form and once we've verified your ownership, our automated process will start scanning your assets. Once that initial scan is complete and verified, you'll get access to a full test environment so you can explore by yourself.